Ocean View Vacation Rentals
One of four units overlooking the courtyard of a historic house, the Million Dollar Beach Suite has an elegant interior, meticulously-designed with a bright blue and sparkling white motif. The only break in this brilliant color scheme is the deep mahogany tone of the beautifully-burnished hardwood floors. Built in 1920, the home was transported via barge through the Gulf of Mexico, and restored and remodeled to preserve its aura of antiquity. This is accomplished masterfully, but not at the expense of modern conveniences. New plumbing, sinks, faucets, stainless steel refrigerator, granite counter tops and marble seamlessly blend Old World charm with 21st-century amenities. Other features include a jet bathtub, barbecue grill, new mattresses, and designer furniture by El Dorado.
This suite is a spacious two-bedroom with a magnificent view of the sea, from the living room and one of the bedrooms. Both bedrooms feature a queen-sized bed, and one also has a full-sized Murphy bed, as well. For privacy, the latter comes with a divider/screen between the beds. In addition, the unit has a comfortable sofa that folds out into a full-sized bed.
The exterior features a huge sun deck, where you can get a tan while sipping a cool glass of fresh orange juice, or whatever your beverage of choice. Gaze at the garden with its exotic plants, or marvel at the stately, century-old trees in the courtyard. Escape the cold, drab winters of the north. Come to the Sunshine State where the weather is warm, the skies are clear, and the ocean is invigorating.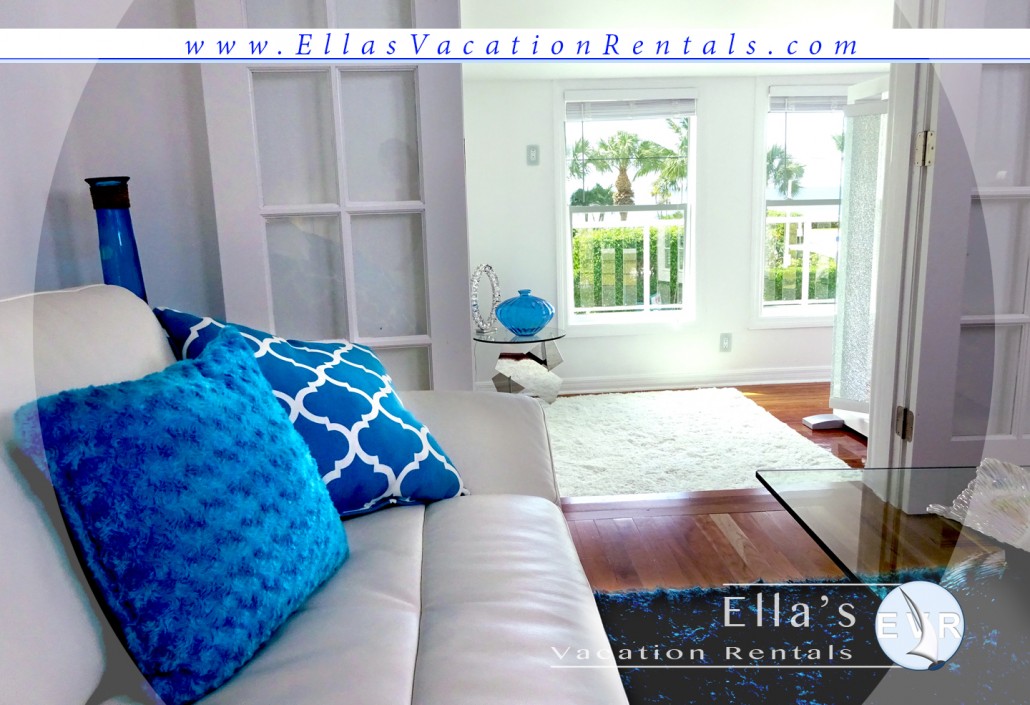 This is a new listing, but be sure to check out my other properties, too! When you deal with Ella's Vacation Rentals, you are dealing with a private individual –me- not some large, impersonal property management firm. I will treat you like an old friend. Welcome to Russian hospitality, tovarisch!
Location
The suite is about mid-island, and halfway to Times Square, the vibrant, bustling district of downtown Fort Myers. There you can enjoy live music, festive dining, water sports and camaraderie. Or you can take a sojourn to nearby Lovers Key State Park, where you can kayak next to dolphins, go on a nature hike, photograph the sundry wildlife or walk barefoot through the sparkling sand and welcoming surf.
"A Book of Verses underneath the Bough, A Jug of Wine, a Loaf of Bread- and Thou
Beside me singing in the wilderness- Oh, Wilderness were Paradise enow!"
– Edward Fitzgerald, Rubaiyat of Omar Khayyam.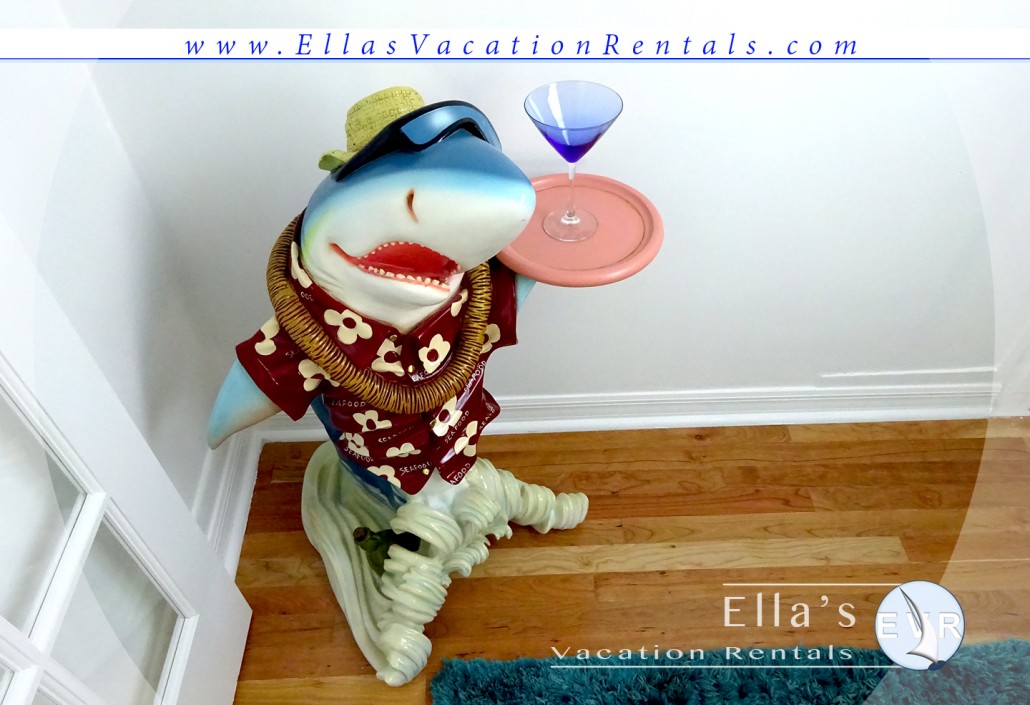 Guests have access to the entire place.
The address, access code and WIFI information are typically e-mailed to you shortly before your arrival. Instructions regarding opening the locks and the location of the washing machine and dryer are provided in the welcome letter and in printed format inside the suite.
The backyard, barbecue grills, outdoor tables, beach chairs, beach umbrellas and toys (if any) are for common use. There are normally at least two grills, gas or charcoal, per property. In the event that there is no gas, which has never happened, notify me and I will take care of the problem.
If you are renting the entire house, then you have full access to the parking. Otherwise, you will get one parking space per unit. Occasionally there will be an open space, which is available on a first come, first served basis. Should you find no parking spot when you arrive call me and I will resolve the situation. You may also want to refer your neighbors to the manual inside each unit, to ensure their compliance. Most of my guests, however, have been respectful and courteous.
© Ella's Vacation Rentals